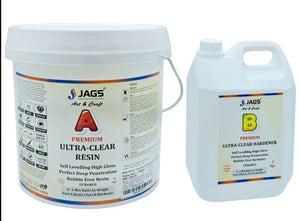 About this item
1. Material: Resin & Hardener. Pack Contains 4 kg of Clear Resin & 2 kg of Hardener. Mixing Ratio 2:1 and working time 45 Minutes.
2. This resin & Hardener is ideal for jewelry making, dome sticker, dome embellishments, and coating wooden furniture for sheen & protection.
3. It is water-resistant when it is dry and gives a glossy finish to your projects.
4. It is Bubble Free Hardener, Clear Transparent and High Gloss Coating.
5. It is also low Viscosity, UV resistant, compatible with pigments, free from solvent and unpleasant odor.