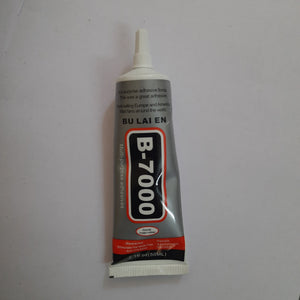 HIGH PERFORMANCE: Self-leveling Adhesive withHigh Elasticity for SmartPhone, Tablet, Electronic Components, Jewelry, Toys, Metal, Glass, Rubber, Fiber, Paper, Ceramics, Wood, Cloth, Textile, Nylon, PVC, LeTher and Ther materials.

Water Proof, 

Flexible, Stimulate the taste free, A Hint of Scent, Anti Viberation & Paintable

B-7000High Performance Glue outperforms Silicones, Acrylics and Rubber cements because it adheres to more surfaces with greater durability. B-7000 provides a superior bond on stubborn porous and non-porous substrates.

SPECIAL DesignED PRECISION TIPS: Allows Small Adhesive drops for fine, Precise , Controlled and no mess Applications

APPEARANCE: Semi-transparent floating body Solid Content: 30%-35%  after curing hardness is 65-80A Surace drying time: 3 - 6 Minutes. Completely cure time: 24-48 hours Save: at 10 degrees to 28 degrees of preservation

It is a very strong and effective glue.


It is an adhesive glue for mobile phone, jewellery, craft, toy, handicraft

It does not dry up due to the pin going inside the tube after closure.

Please make sure that the sticking surface cleaning and drying

Surace drying time: 3 minutes

The best use of temperature should be between 18-32 degrees

The product after opening the cover please timely cover titch removal for the adhesive residue on the cover

Package Included: 1 x Glue adhesive .