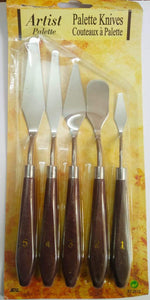 Palette Knives
5 Most Popular Painting and Mixing Knives in One Package!

Primary Use is to Mix Color. Also Excellent for Thick Painting Techniques. Apply Paints and Pigments Directly on Canvas.

Stainless Steel Blades with Polished Hard Wood Handles. Bend in Handles to Keep the Artist's Hands off the Painting Surface.

Suitable for Painting and Art Projects. Suitable for Amateur and Professional Artists.

Package Contains 5 Piece Painting Knife Set.