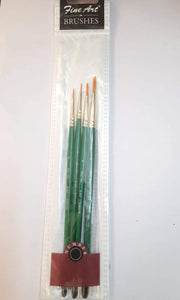 The 4

 

pcs artist brushes are made from premium nylon hair and wood handle.

These will offer great liquid holding capacity, allowing paint to flow smoothly.

The set contains brushes of Round shape and various sizes and are suitable for watercolours, acrylic and oil paint

Clamped with extra strong aluminium ferrules, so synthetic hair brush will not deflect or spread while painting. Focus on the artistic creation without any use problems.

NO MORE FRUSTRATION OVER USING BAD BRUSHES - No loose hairs or paint flaking off of these brushes, so you enjoy being in the painting zone with these paint brushes instead of picking paint brush hairs or flakes out of your work.