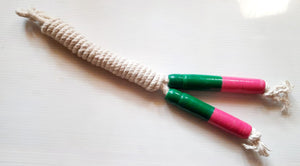 This wooden handle cotton skipping rope is light weight and good in quality. Also good quality wood and cotton has been used for handle and rope.

It can be adjusted to the desired length. At the end of the rope there is a knot inside the handle. Slide the rope through the handle and tighten the new knot to shorten the rope to the desired length.

Great for building stamina , losing weight and toning your arms and legs.

Suitable for Adults and Teenagers. Color of this product will be sent as per stock availability.

color may vary.