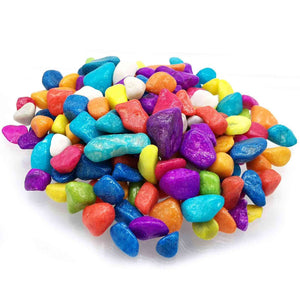 1. Pebble Stone 100 g - Size 15-20 mm
2. These Pebbles are ideal as decorative rocks to make the appearance of the planter or vase neat and appealing,
3. Rocks are natural and as a result, some may be broken or out of shape, oval or round, thick or thin.Note: Dust will adhere to the surface of natural stone, which will disappear after washing with water
4. This Stones are Perfect for home decor projects, art and craft, floral arrangements, centrepieces, vases, bowls, apothecary jars, wedding buffet, display canisters, pillar candle in hurricane glass.
5. These Stones Can be Used for both interior and exterior decoration purposes.