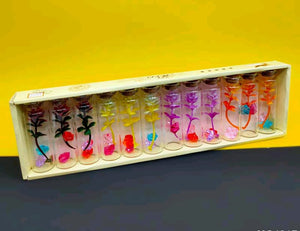 Set of 2 Message Bottles with Wooden Box Tied with Ribbon 

Random Color and design.

This glass bottle message gift can be gifted to both male and female friends

Messages in bottles are back in fashion. Message in a bottle gift for a special one.

You can express and write anything for your LOVE || Ideal for both HIM or HER - Great Gift for your girlfriend boyfriend wife or husband and Your Loved Once

This cute and romantic Message Bottles carry blank message paper. Write Your Feelings in these beautiful papers and send them together and bring out beaming smiles.