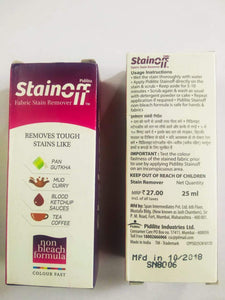 Stainoff - Has a non bleach formula

Stainoff - helps remove stubborn tea and coffee stains from your clothes

Colourfast

For Home & Dry Cleaners

Pidilite stainoff fabric stain Removes tough stains like Curry, Tea, Coffee, Paan, Pickle, Rust, etc. from all types of fabric.
The Stain Remover with Non-Bleach Formula is manufactured under the name of `Ranipal Stain Off` and is used for removing tough stains from fabric.